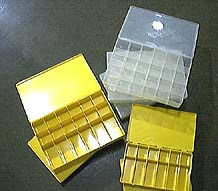 Polypropylene Boxes
Made of extremely durable yellow and clear polypropylene. Molded with heat-sealed hinges. Resists solvents such as gasoline, oil and most common chemicals. Great for organizing small to medium sized items.
Standard fastener assortments are available in any of these poly boxes. They can be customized to match a specific requirement or budget. Assortments can be specified in any combination from our line of 50,000 products.

Kit Boxes
Kit boxes are also available. great for making
assortment bins adjustable to almost any size!