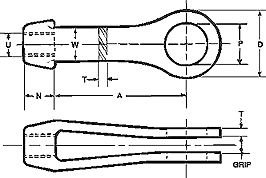 Drop Forged Steel Clevises
Made from C-1035 and SA-182-F-11 steel, the clevises are available with right or left hand threads; coarse and fine thread; with a plain, zinc plated or galvanized finish. They are also available in stainless steel and other alloys, and with special threading. Maximum working loads have been established with a safety factor of 5:1 using the max pin diameter, the net area of the eye at the pin hold, and the expected ultimate tensile strength of C-1035 steel. Refer to the maximum tap size ('U' in Table 1) to determine the largest tap diameter the clevis can handle without considering the pin diameter.
Use Table 1 for reference information about the clevis. Use Table 2 to locate the available pin and diameter combinations from the tap diameter you have selected.
Load imposed upon the clevis should never exceed the maximum working load values shown in Table 1.
Table 1 - Standard Clevis Dimensions (in inches)

Clevis#

D

N

U Max

W

Tolerance

A

P Max

Max Working Load Kips

Wt. Ea .Lbs.

2

1 7/16

5/8

5/8

1 1/16

5/16 + 1/32 - 0

3 9/16

3/4

3/5

1

2 1/2

2 1/2

1 1/8

1 1/8

1 1/4

5/16 + 1/32 - 0

4

1 1/2

7.5

2 1/2

3

3

1 1/4

1 3/8

1 1/2

1/2 + 1/16 - 1/32

5 1/16

1 3/4

15

4

3 1/2

3 1/2

1 1/2

1 1/2

1 3/4

1/2 + 1/16 - 1/16

6

2

18

6

4

4

1 3/4

1 3/4

2

1/2 + 1/16 - 1/16

5 15/16

2 1/4

21

8

5

5

2 1/4

2 1/8

2 1/2

5/8 + 3/32 - 0

7

2 1/2

37.5

16

6

6

2 3/4

2 1/2

3

3/4 + 3/32 - 0

8

3

54

26

7

7

3

3

3 1/2

7/8 + 1/8 -1/16

9

3 3/4

68.5

36

8

8

4

4

4

1 1/2 + 1/8 - 1/16

10 1/8

4 1/4

135

90
Table 2 - (in inches)

Dia. of Tap (down)

Dia. of Pin (right)

1/2

5/8

3/4

7/8

1

1 1/4

1 1/2

1 3/4

2

2 1/4

2 1/2

2 3/4

3

3 1/4

3 1/3

3 3/4

4

4 1/4

3/8

2

2

2

1/2

2

2

2

5/8

2

2

2

2 1/2

2 1/2

2 1/2

2 1/2

3/4

2 1/2

2 1/2

2 1/2

2 1/2

2 1/2

7/8

2 1/2

2 1/2

2 1/2

2 1/2

3

1

3

3

3

3

1 1/8

3

3

3

3

3 1/2

1 1/4

3

3

3

3

3 1/2

1 3/8

3

3

3 1/2

3 1/2

4

1 1/2

3 1/2

3 1/2

4

4

5

1 5/8

4

4

4

5

5

5

1 3/4

4

4

5

5

5

1 7/8

5

5

5

5

5

2

5

5

5

5

5

6

6

2 1/8

5

5

6

6

6

6

2 1/4

6

6

6

6

6

7

7

2 3/8

6

6

6

6

7

7

7

7

2 1/2

6

6

6

7

7

7

7

7

2 5/8

7

7

7

7

7

8

2 3/4

7

7

7

7

8

8

2 7/8

7

8

8

8

8

8

8

8

3

7

8

8

8

8

8

8

8

3 1/8

8

8

8

8

8

8

8

3 1/4

8

8

8

8

8

8

8

3 3/8

8

8

8

8

8

8

8

3 1/2

8

8

8

8

8

8

3 5/8

8

8

8

8

8

3 3/4

8

8

8

8

8

3 7/8

8

8

8

4

8

8