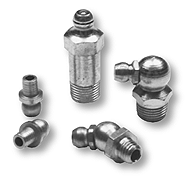 Grease Fittings
Our heavy duty push fittings permit a high volume lubricant flow. Made with a flush ball check to keep dirt and grit out of the fitting, pressure won't force out the spring and block flow. Made for pressures up to 10,000 psi.
Group codes Represented: GF
Part# Example: 684GF
We carry four types of grease fittings:
1/8 inch Male Pipe Thread Fittings
1/4 inch-28 Thread Fittings
Drive Type Fittings
1/4 inch Male Pipe
Each fitting type has a different range of available shapes, sizes and angles. Please call for specific dimensions.
Also available in assortments.